2010 Spring Opener Ride . . .
We left Philadelphia last Saturday morning for our annual spring ride down south. The same crew has been doing this ride for three years now, so we've got it down to the point where it's almost too easy. I've been taking some form of spring opener ride for about twelve years. In the early 2000's we would head down to New Orleans for Jazz Fest. We headed to the Smoke Out a few years. In 2007 we went to Savannah. Last year we went to Nashville and Charlotte. This year? No plans. Figured we'd do it a little differently. When in doubt, west and south. Past years have found us hoofing it down the highway at 90mph trying to get to our next planned destination with no time to smell the roses. Although when called upon to get it done, we all know how to produce. This year we were four.
Dan rode his '81 shovelhead which he has refined to the point of flawlessness over the years. At 93ci it moves pretty good. Paulie took his '84 FXSB shovelhead. Not so refined. In fact, his philosophy on bikes is to completely ignore them until something breaks. This burned him good this year, and by association, us. This trip almost ended before it began. On our first evening (and one of the three days out of nine that it didn't rain) we removed his entire drive line to replace a failed charging system that he could easily have diagnosed before leaving. Tension. Talk of disrespecting your friends who make great efforts to put work-a-day life aside for a week every year to do some much-needed traveling. The next day was also fraught with failures on his bike. We decided to cut him loose and send him home.
Dan warned him all day "This is your last day to be retarded. Get your shit together by tomorrow or you're going home". Be it luck or otherwise, not another problem from his bike and he turned it around. I'm glad it worked out that way.
I took a relatively new bike to me, a '64 stock FLH named El Guapo that I got from my friend Paul two years ago. I spent last Fall and Winter rebuilding it almost entirely and tuning and refining it for this trip. All told, it performed fabulously and brought me many smiles. The gearing is tall enough for riding 80mph all day and the luggage makes traveling almost too easy. The push wire throttle stays where you put it so you can take your hands off the bars to stretch or lay back once in a while. I did have to tighten the primary chain one night and had a split brake line a day later. Otherwise, perfect.
Vinnie brought his '03 Yamaha FZ1. With great reluctance he left his just-built '49/'62 panhead home out of respect for the rest of us as he'd been unable to get it dialed in for long distance road duty. We tried our damnedest up until the last minute, but just couldn't swing it. "Odd man out" as strangers encountered at rest stops kept reminding us. All four of us are the odd man out in one way or another. That's what makes our crew what it is. Diverse and head-strong characters who have adapted seamlessly to traveling together. All with an abiding love for and addiction to motorcycles. We learn from each other every time we travel. I learn patience and trust. Dan engages strangers. Vinnie steps outside himself. Paulie practices in preparedness. Everyone contributes in ways that complement the whole. . . from carrying spare parts to working the gift of gab to shepherding over our flock leaving no man behind and recognizing when some are struggling. Unspoken love and understanding from what may seem to observers as an unlikely assemblage.
This trip was so unlike our last two together as traveling companions. All of us at various times wondered whether we were having a good trip or not. That we'd learned to overcome problems so quickly and instinctively left us without without the usual horrendous episodes to ponder and Herculean efforts from which to recover. We were decently rested every morning. No one was hurting. No bikes were failing. The few horrific hangovers we earned were salved quickly with sunshine naps up on the Blue Ridge Parkway, all of us moving as one to do nothing at once. Concordance. Harmony. Automatic. We had time to think. Aware of each other and always doing things to smooth the way for others. We even came home on time, not waiting until 18 hours before the next shift finding ourselves 900 miles away in the rain on a Sunday morning. Grown up? Improved? Refined? The impetus is not important.
We started our journey in earnest on the hilly farm roads of Western Maryland and Harper's Ferry with our friend Mitch who joined us for the day. That night he guided us to his friend PeeWee's house for a long repair session on Paulie's bike. PeeWee generously provided tools and a place to sleep. Shame we didn't get to spend more time talking as we were certainly in get-it-done rather than social mode. Thank you PeeWee. Next time we'll have more time to check out the '57 pan and knuck and the '26JD and so on and so on. . .
The next night we went to bed in Roanoke after again almost bringing our trip to a halt as Paulie's exhaust broke free due to neglect. I had "road fixed" it on last years trip with bailing wire, threadlocker and gravel (don't ask), warning him to address it properly once home. Miles from any town with more than one stoplight on a Sunday evening, Dan, out of nowhere responds to a passer's "How's it going?" with "You wouldn't happen to have a welder would you?" He tells us his buddy down the road is a repair man for earth moving and road maintenance equipment. Said he'd run and see if he was home and we asked what type of beer he liked. Half an hour later we were working off the back of a well-equipped service truck with a vice, an angle grinder and Bobcat welder just like home in the shop. The fellow was a hell of a welder and we could tell he'd been around the block a few times. He even helped us harrass Paulie, albeit gently. After an hour we were once again on our way, in time for our first sunset magic hour ride down country roads. I rode up to thank the man who helped us to find him sitting in his truck having a beer. Thanks man!
We made it to Roanoke and found the bar we'd visited in the past. They were setting up for a birthday party that night and we helped with the decorations as we were the tallest folks in the place. Ended up playing pool all night and riding home to the motel in the driving rain, which was to become a constant on this trip. The next day we headed to Knoxville, TN, a town we'd all ridden past hundreds of times but never really explored. Feeling a little weary and irritable, we stopped at a rest stop about a hundred miles out to make a plan. First rally. We decided to "drive right into the middle of town, find the most crowded bar around and talk to every single person in the place". Good plan.
We parked our bikes, packed to the gills, right outside Manhattan's in the old town section of downtown Knoxville. Out of the corner of his eye, Vinnie spotted an amazing modified XS650 drive by. We all ran outside to check it out. The rider turned around and came back by to find us on the sidewalk yelling "Come on up! Let's see it!", and he did. Turns out Nathan has friends in Phila and is as much a riding junkie as the rest of us. He made a few calls for his friends to come by and soon after we were talking and telling stories and drinking cold beer and reveling in our vacation. He insisted we stay at his place and called his wife right in front of us to say "I just met a bunch of traveling bikers and they're gonna stay at our house". We stopped to pick up some food and more beer and headed to his place where he grilled up dinner for everyone. We stayed up mighty late until all the beer was gone then headed in for a few hours of sleep.
The next morning Nathan took us out for breakfast and called a few friends to join us. Took us riding all day on the Foothills Parkway, Fontana Dam, river roads, twisties and farm routes. We went to visit his friend Tony who has a nice patch of land up in the hills with his family. Tony is an avid bike builder, his specialty being two-stroke mountain racers with real suspension, sick motors, and nice sticky tires. I can't accurately describe how fast and amazing his Yamaha RD with a Banshee motor is. He'd get through all six gears in under two seconds and be a mile up the road in the blink of an eye. From every red light. The rear tire would stand up instantly when he got on the pipe, so tall it'd almost hit the fender. You could see the bike sit up before you heard it. . . and then it'd be gone.
That night Nathan took us to a local vintage bike night at a place called the Time Warp Tea Room in Knoxville. This place is an eclectic mix of vintage race bike nostalgia and a local clubhouse for bike nuts of all stripe. No beer served so we had coffee and hot dogs. After hanging around there a while we started getting grumbly about being tired and hungry. A pile of us headed over to the market square area and got a huge table outside at a Mexican restaurant. After pitchers of margaritas and plates of enchiladas we felt much better. At dinner, we met Nathan's friend John. Nathan tagged out as he was pretty faded from spending the previous night and day with us. He headed home and left us in John's capable hands. John made sure we got to a motel on the edge of town and hung around 'til the wee hours as we went through a few cases of beer telling stories, sitting on motel furniture we'd pulled out onto the sidewalk. John has a really cool boss who told him he could take a day or two off and go riding with us if he wanted to. He also invited him to bring us around to see his music store. Yes! After just a few hours of sleep and looking over our bikes in the morning we road downtown to meet up again.
John is currently working on refurbishing a music store (Morelock???) with some great old guitars and banjos all around. They intend to have recording studios and practice rooms and an otherwise comfortable environment out front to sit around and play some music. I spied a nice resonator guitar on the wall and asked if I could play it. Next thing I know I'm sitting on a stool playing slide guitar, having not touched the instrument at all in a few years. Another fellow in the shop grabs a double bass and heads over to the carpet and starts playing along with me. He was gracious enough to prop me up in my sloppy playing. It sounded great! As we're leaving and saying our goodbyes, Paulie leans over and whispers in my ear "Do you know who you just jammed with?". No, I don't. "The house bassist for the Grand Ole Opry". You can't make this shit up. Amazing! John then took us next door to a cool print shop where the owner showed us around the old machines and through her collections of old county fair posters and woodcut type. I like this town. You'd be hard pressed to find friendlier people. Time to move on.
With John in the lead, we headed south towards Tellico Plains so we could ride the Cherohala Skyway. After a tasty lunch we headed up into the hills for some floorboard sharpening sessions. El Guapo, despite being an old touring bike is a fine one at that and will get down and boogie with little prompting. I'm so glad I put new shocks and fork springs on and bent my kickstand up higher into the frame for ground clearance before I left. With my pulse quick and my brain turned off in flight mode ripping through the turns up on the parkway, I lost track of time, and of the man behind me. I pulled over and waited a while before starting to flip out. I turned around and headed back slowly, mind racing, hoping like hell that no one crashed. I pictured the worst as I rounded every bend only to be proven wrong. Thankfully. About a mile from where I turned around I found my mates in a pull-out with the bike already up on a rock and the tools out. Flat tire. Dan nearly crapped himself to hear him tell it, but was able to slow down safely and pull aside without incident.
This turned out to be an enlightening episode. We had achieved perfection. Silently and without effort. No one commented but we all knew. Fellow motorcycle travelers came and went, looking over in drop-jaw amazement as if we were raising the dead or charming Cobras. We changed the tube in about ten minutes. No one was annoyed. Everyone helped. All were calm. Not one of us even missed a stride. The bike was up off the ground, axle out, brake caliper off and wheel in hand in minutes. Dan pulls out tire irons and we removed the tire in seconds on a nearby picnic table. We loudly sang embarrassingly cheesy songs from Lionel Richie, Air Supply, quiet storm jams and 70s bullshit love songs to the people coming and going from the stop. The tube had burst, being split half-way around its circumference. Simple failure of a poor quality part. Almost criminal. Paulie pulls out a new one from his saddle bag without a word. He redeems himself for earlier problems in many key ways for the remainder of the trip. He also pulls out a cigarette lighter powered air pump he carries since our trip three years ago where we had a few flats. We put the new tube in and started to mount the tire. Vinnie slips in my place, cigarette in his mouth not missing a note from the story we were telling, and the tire jumps into place without visible effort as if he were a medicine man laying hands on the infirm. Dan got the pump rolling and we took a smoke break. Ten minutes later all is fixed and we're out of there. John said nothing but I suspect he was impressed. We waved to everyone as we left, leaving not a scrap behind in our wake. Pit crew. Indy class. Next?
Did I mention we were on our way to Maggie Valley, NC to visit the Wheels Through Time museum and meet up with some of our friends who were camping there for the night? I gave JW a call and told him we were about an hour out and to save his thirst and appetite. We pulled in to see everyone we love and catch up a bit since we saw each other last. The sun was filtering through the trees on this little flat by the creek in the late afternoon. Antique bikes parked everywhere and people here and there taking it easy. Dale Walksler runs an amazing place and generously arranged to let all comers camp on his grounds and even kept the museum open until midnight. 'Round about that time Vinnie comes over from the creek and says "Hey, we rented a complete trailer! It's spitting distance from here". The little motel next door suggested that since it was four of us we should just rent the trailer for the night for a hundred bucks. We head over to check it out and it's beautiful. Rhododendrons in full bloom out front, spotless inside and screened in front and back porches. You could sleep ten people there easily. Couches and floor space were called and we headed out for dinner and to buy beer. We stayed up all night drinking whiskey, telling stories. At one point in the evening we headed over the museum again and were told it'd be no problem to drink beer inside as they trusted us to be careful. Wow. There are thousands of priceless machines and memorabilia at Dale's place and he trusted total strangers to respect that which he had built to preserve motorcycle history.
The next morning as I emerged whiskey-headed and worn out from the museum after yet another visit where time seemed to stop entirely, I stepped into the bright sunlight a bit stunned. Parked in front of me on the gravelly embankment was a '53 panhead chopper that was spectacular in its simplicity. As I stooped to ogle the bike, Dale's son asked "Want to ride it?". Surely he was joking. It had what seemed like a seven foot long front end and a tank gear shift and a rocker clutch with the friction mechanism removed. I hesitated as he asked if I knew how to ride a hand-shift bike. I said "Yes I do" and it was on. He was about to start the bike for me when I asked if I could do it. By my thinking no one has much right to ride a motorcycle they can't start. What if I should stall it? I looked over the carb and asked about the ignition switch position. It has a Linkert carb just like my pan so that was in my favor. I carefully primed the motor while astride the bike, turned the key and gently kicked the bike to life. It started right up. I was hoping that he'd felt more comfortable with me on his bike seeing that I knew what I was doing. I was shaking nonetheless. I rode it all around the campgrounds for five or ten minutes, riding past a bunch of folks and smiling and shaking the whole time. The sound was crisp and the steering was a handful. Paulie later said that it looked like I handled it perfectly. It certainly didn't feel that way to me at the time. What a visceral way to start my morning.
As we tend to do, we decided to not join the group ride back over to TN for the big party. I suppose we already had ours the night before. The organized ride had a bit of a "big scene" vibe which is not really my thing. It pretty much sealed the deal when we were asked to sign photo releases for Michael Lichter who would be photographing the ride all day. I'm not really one for following either. No good at it. Spending the day riding with a pack of hundreds of hungover people on show bikes through some of the most technical roads in the country didn't sound like such a good idea. Though torn about spending such a brief time with our friends, we did what we do best. . . our own thing. We said our goodbyes and packed up the bikes for an easy day up in the mountains heading east. John, who had so effortlessly fell in with ours, said goodbye and set out for Knoxville after having joined us for the last two nights.
A couple hours later found us up on the Blue Ridge Parkway again, slowly meandering our way from Maggie Valley towards Asheville. We spotted a beautiful turn-out with a grand vista over the mountains and foothills below (we were near the highest point of the parkway) and pulled over instantly. Blankets and jackets were rolled up as we each found a nice patch of soft grass for an afternoon nap. I took my shoes off and rubbed my feet in the grass. Damned it felt good! What a picture we must have made, all lying on a hillside asleep in the sun on a Thursday afternoon. I noticed Vinnie was listening to his ipod and decided that was a damned good idea. I put on an album that was one of my favorites when I was twenty and rambling around the east coast trying to find someplace to be and some way to get myself through the rest of college, Eat a Peach by the Allman Brothers. Having long ago worn my ears out on it, enough time had passed that I could once again hear it with new ears. I'm glad I did.
Wow, did the memories and thoughts come gushing forth that afternoon as I listened. A wave of nostalgia and comfort and happiness in the way my life turned out flushed my entire body. I soon became restless and decided to take a little barefoot hike down to the next vista. The grass blowing in the breeze with the stunning view below as the heat bore down on me was perhaps the high point of the trip were I forced to pick one. Past worries were all for naught. Worrying is useless. I learned that a long time ago after coming up the hard way and constantly fearing for loss of a place to live and money to get by. I've always known how to take care of business and I trust in that ability fully. If I have any regrets in life it's only that I wasted time worrying. Ain't wasting time no more. I will survive all that I encounter. Heavy thoughts for some. Comforting confirmation for me, as I begin the next stage of my life as a father-to-be.
I slowly shuffled back up the hill to find everyone starting to stir and pack up their bikes. We smiled and said little, having shared an amazing break together without saying a word. I set Dan up with the music hoping that he'd get a little taste of ecstasy too. Let's go for another ride.
Asheville found it's way to us even though we hadn't intended to stop there. There is a tangible unnerving weird element to that town that we all agree is quite real. We spent the rest of the afternoon into the early evening lounging at an outdoor beer garden talking to weirdos and drifting in and out of sleep. The rain clouds were approaching and it became obvious that it was time to go get a room. As we'd been here quite a few times before, it was clear where to go: The Mountaineer. We drank beer and played pool all night at the bar across the street before making our way home to bed. The rains came that night and never left.
I guess it's probably time to wrap up the play-by-play. You get the idea. You can easily fill in the rest.
We didn't see another spot of sun for the next three days as we sloshed our way back home on the interstate. All of us feeling a bit homesick, we automatically drifted north and east together as migratory birds returning from a long winter down South. Polished. Cohesive. Almost seven hundred miles in the rain and no one bitched a peep. Past trips have taught us to bring the right gear and everyone had rain suits and face shields and music to listen to. I listened to Pigpen rave-ups all day Saturday and tried to pretend it wasn't raining. Lent my ipod to Dan the entire day before in hopes of making his wet day go a little faster. We even stopped in Roanoke and Martinsburg and had fun going out twice more. Rather than running our asses into the ground, barely making it home in time as in past years, we arrived early and with little effort.
We were confused at first about how this trip seemed a little slow or not as special as in years past. In writing this I realize how wrong that thinking was and that I was only fooled by how effortlessly it came to us. Our sunny interlude, like a dream whispered on the wind, only seemed fleeting when unexamined.
Love.
Jason - May 23, 2010
Dan, packed down in Marysville TN at Tony's house.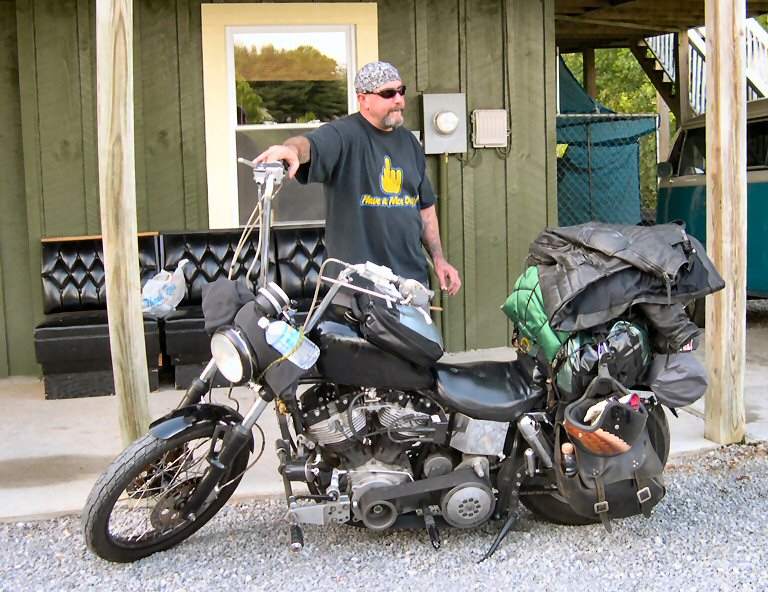 A sicko RD400 chassis with a race modified Banshee motor built by Tony.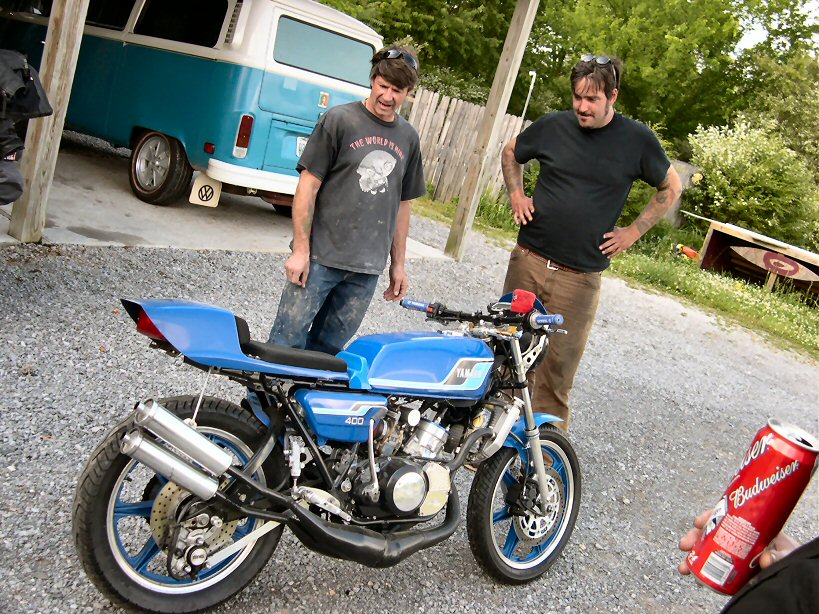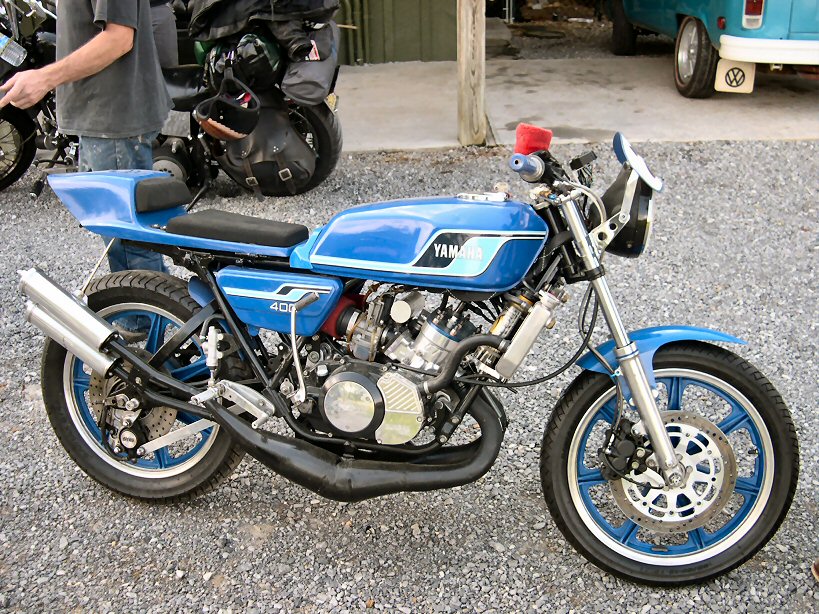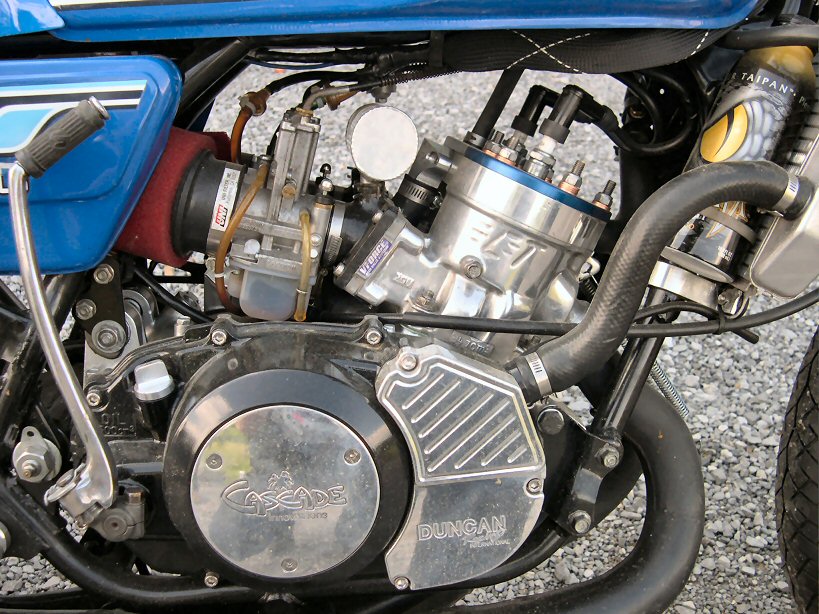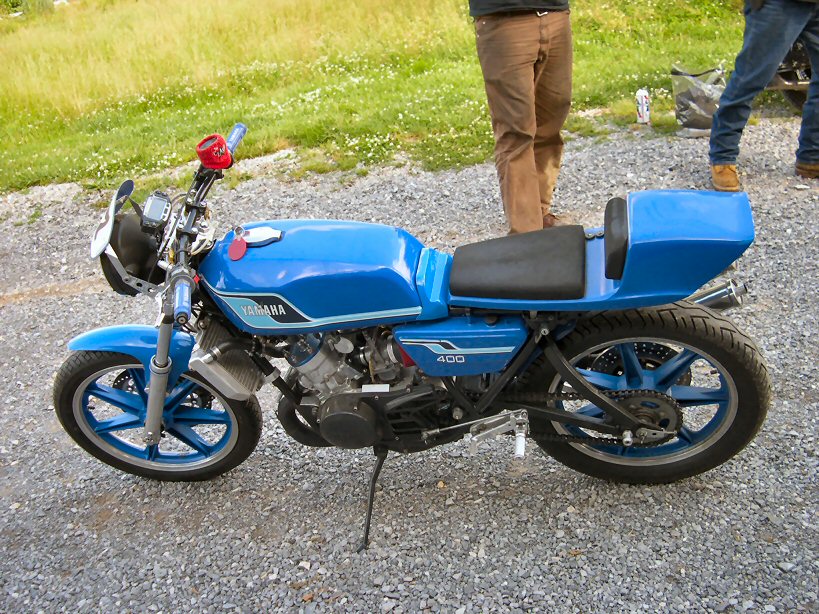 Trevin's '70 R5 just like the one Vinnie and I used to own.
Paulie and Trevin, a friend of Nathan's we met in Knoxville.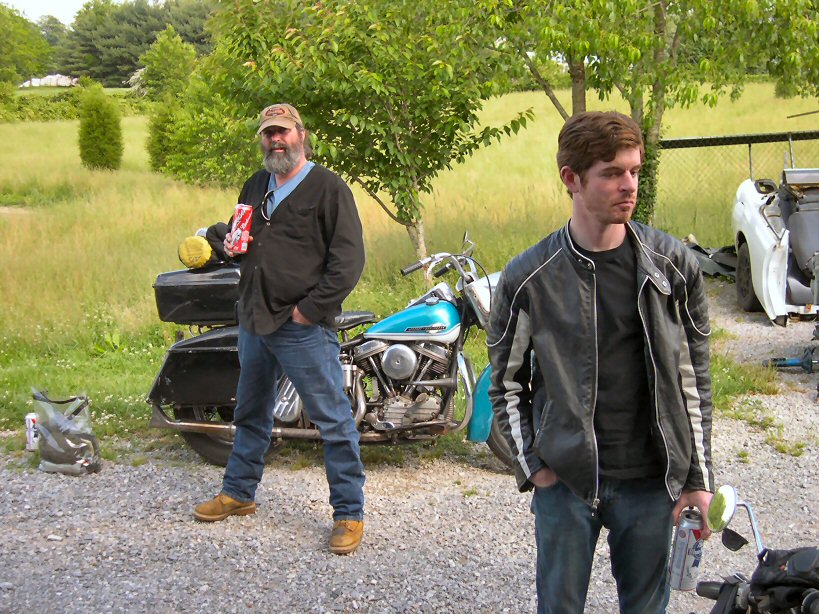 Nathan's highly modifed XS650 setup for mountain carving duty.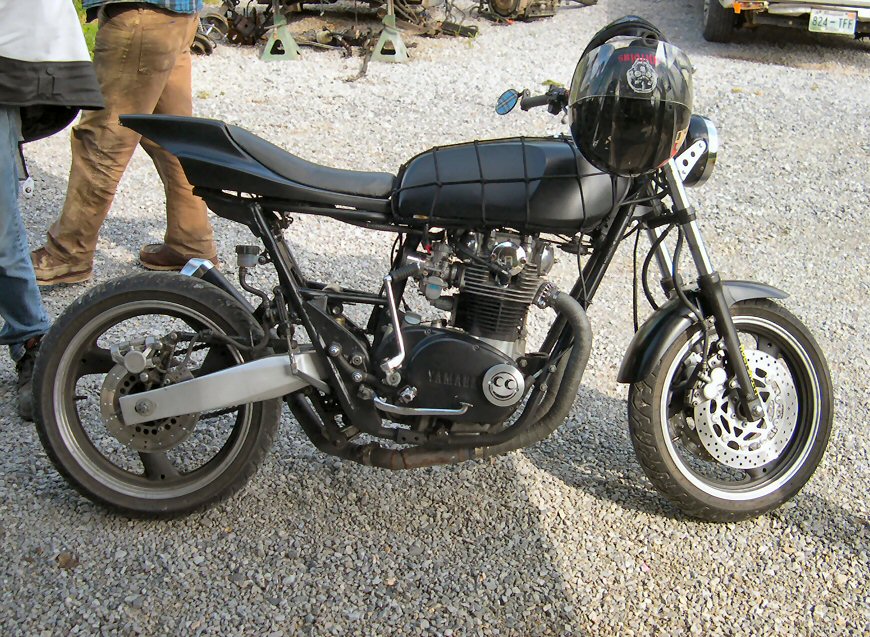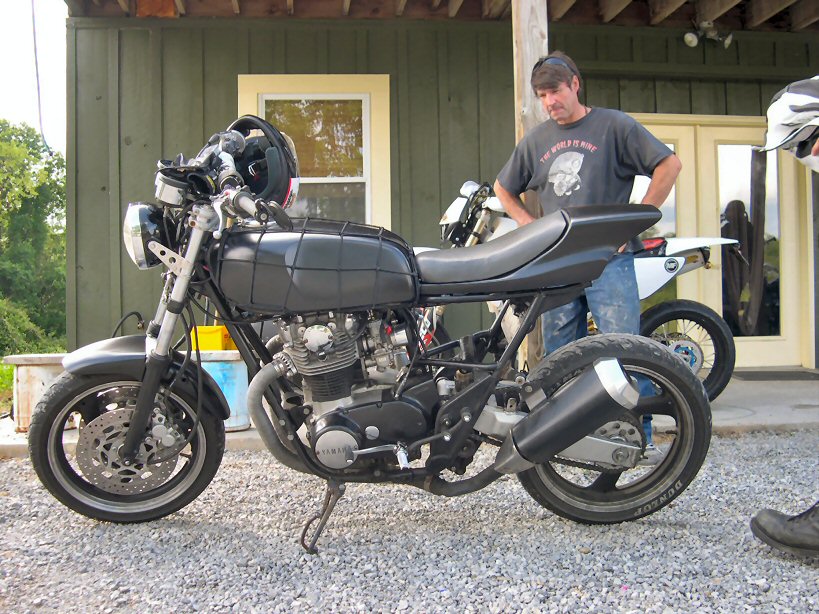 The site of our mountainside nap on Thursday afternoon.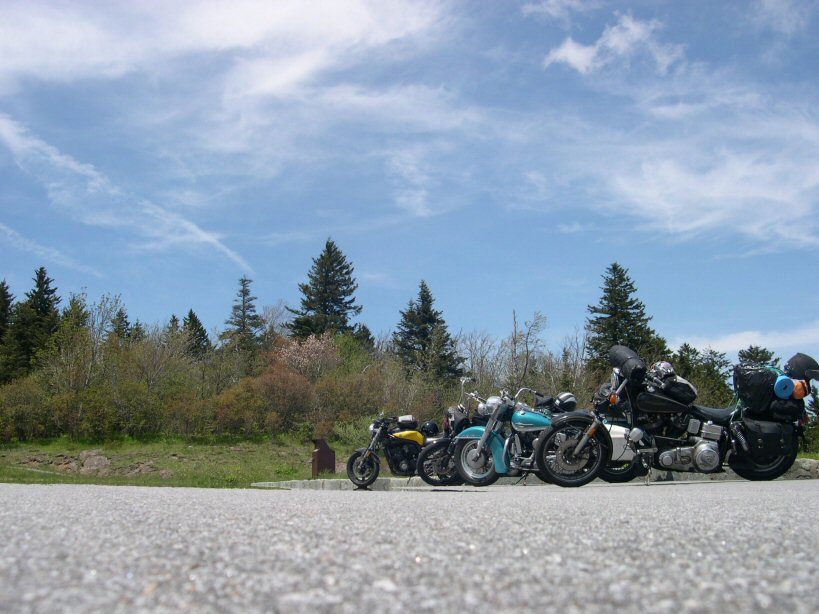 El Guapo packed up.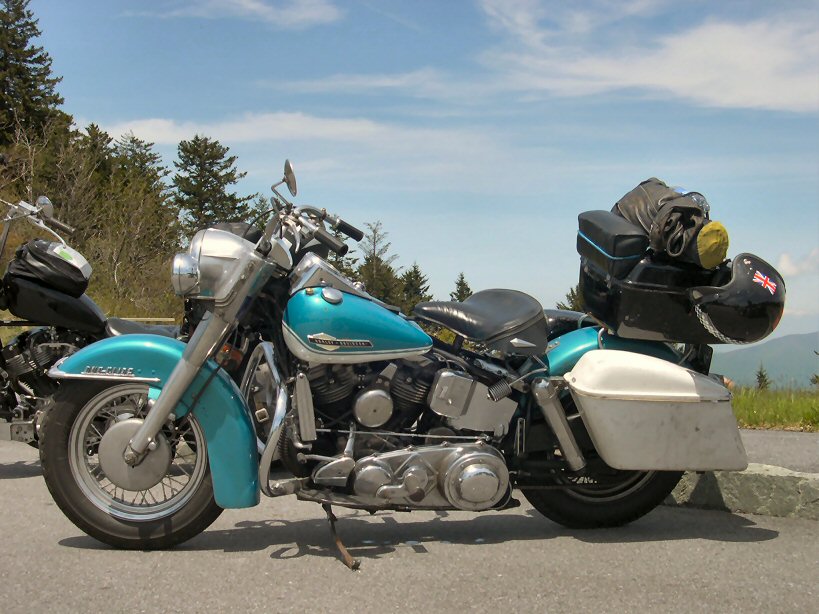 Dan's shovel packed up.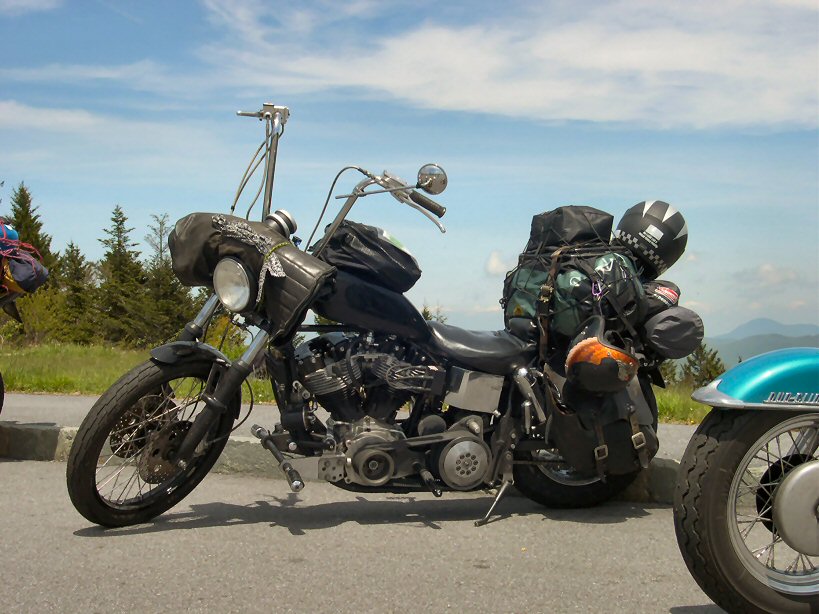 Nap time!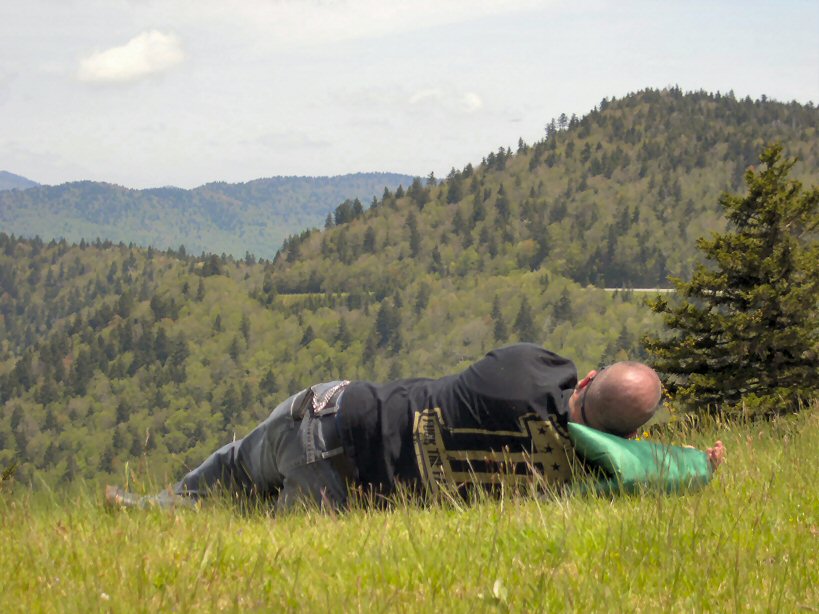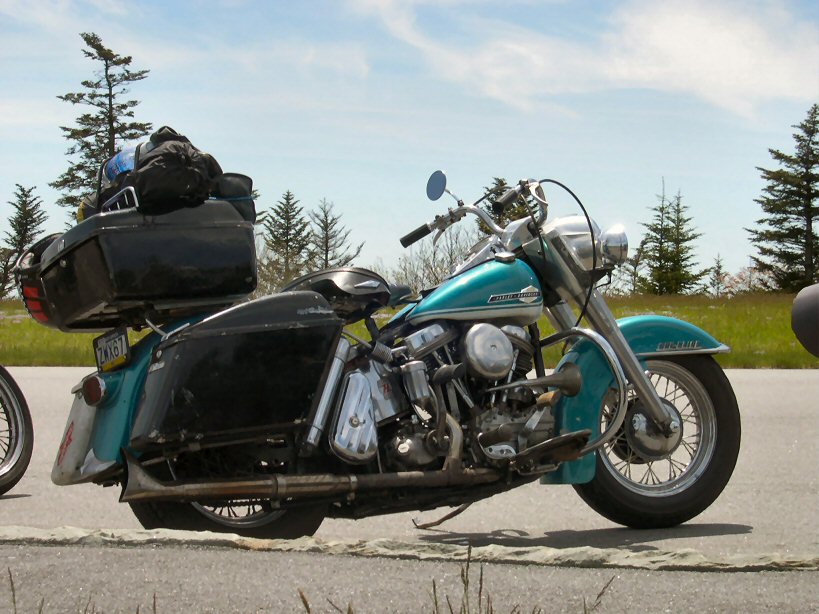 Paulie's FX packed up.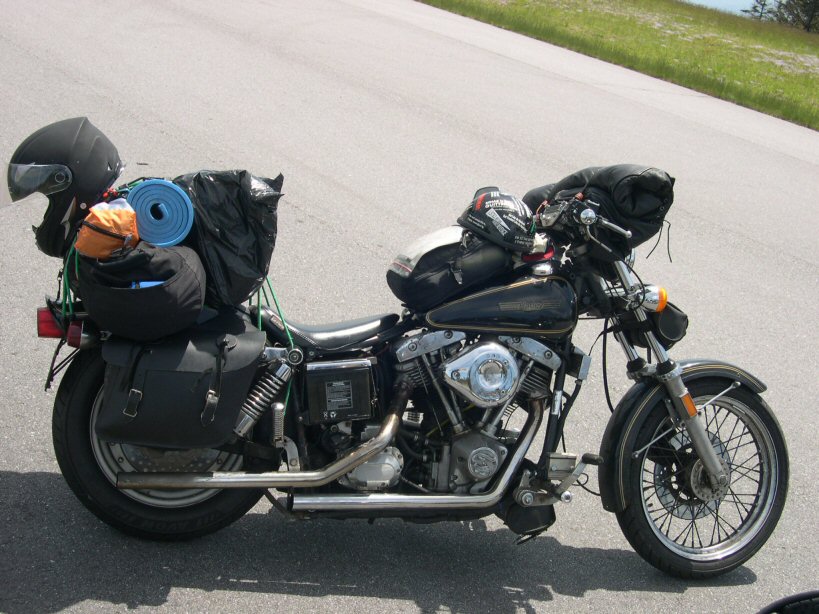 Self portrait.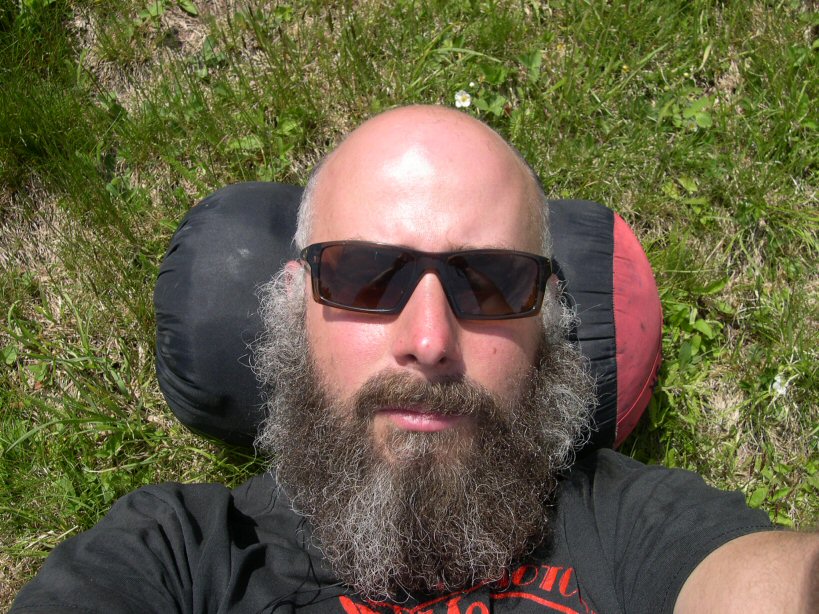 My view.
Late night story time in Asheville with some locals.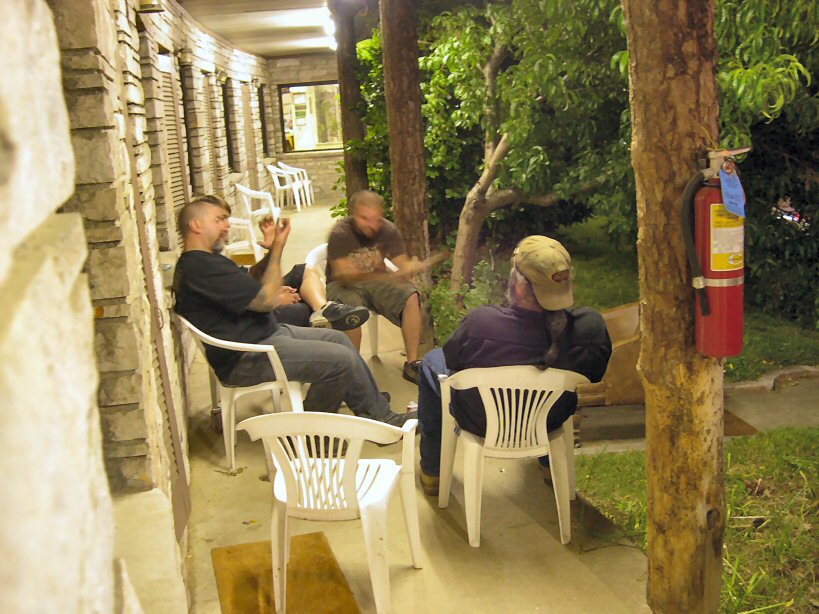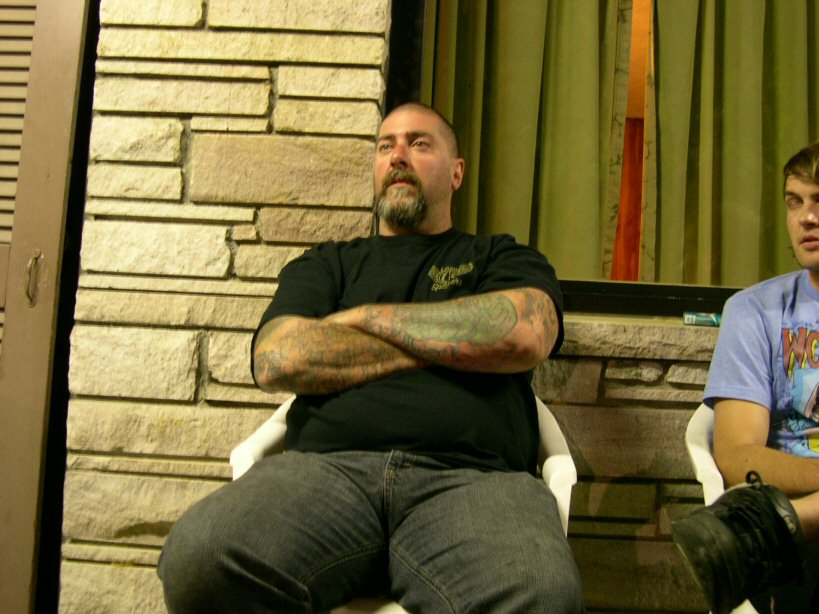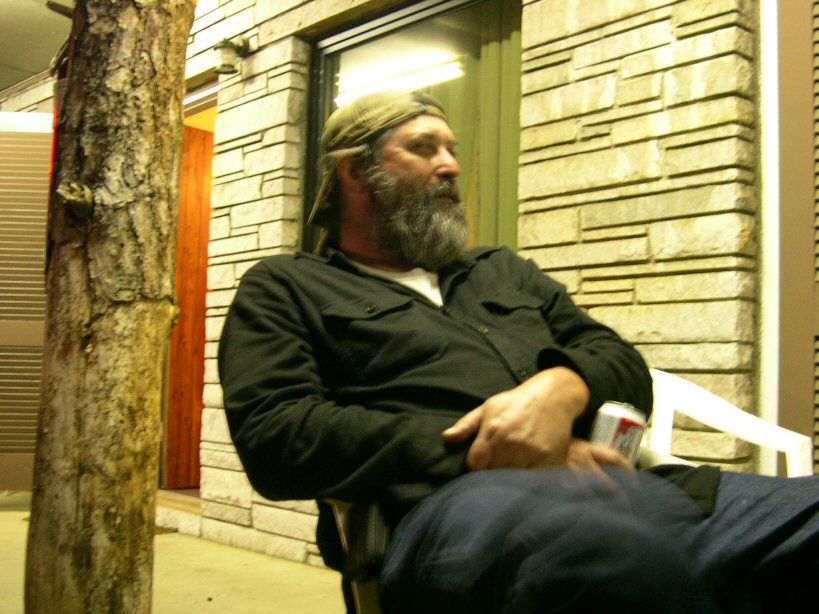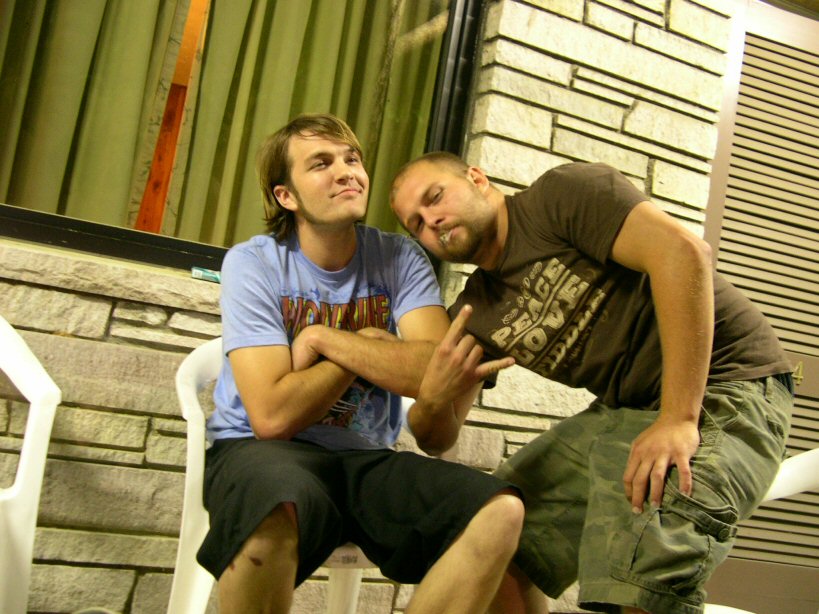 Bruce Elder's antique car palace in Staunton, VA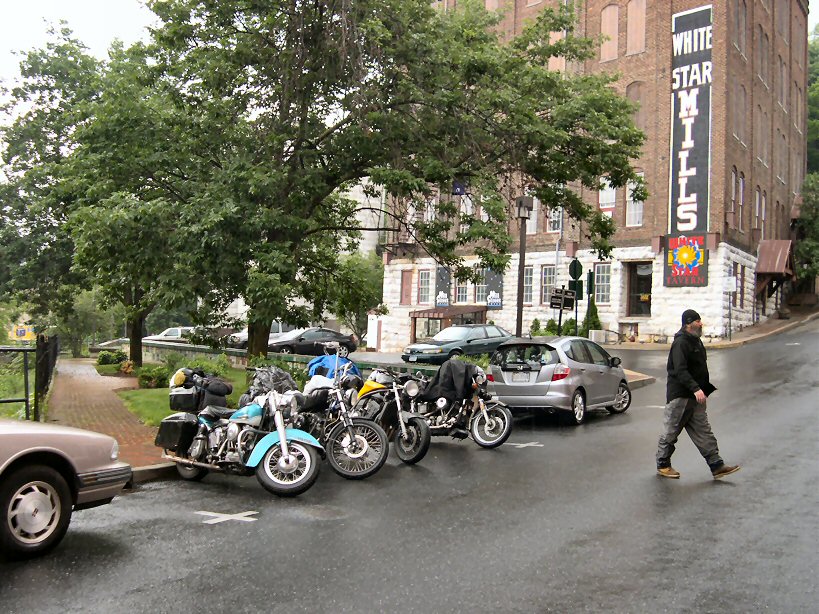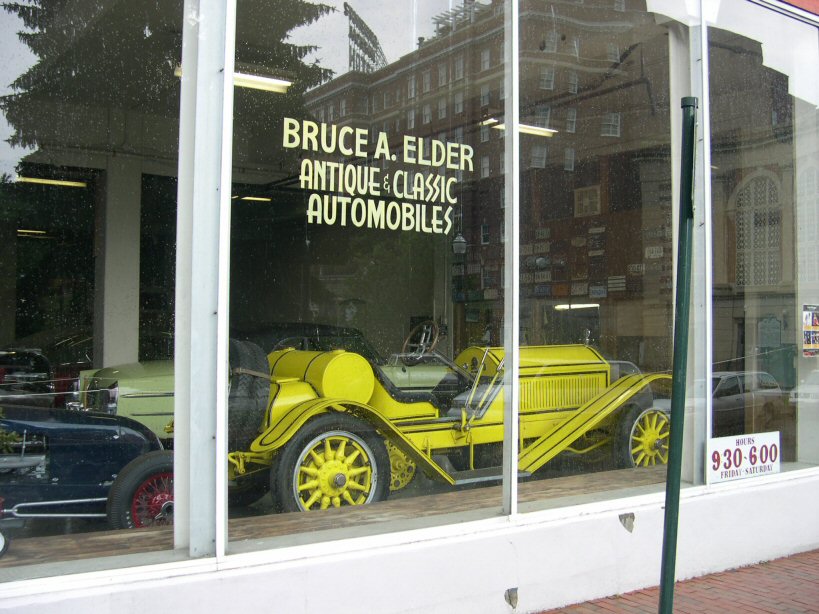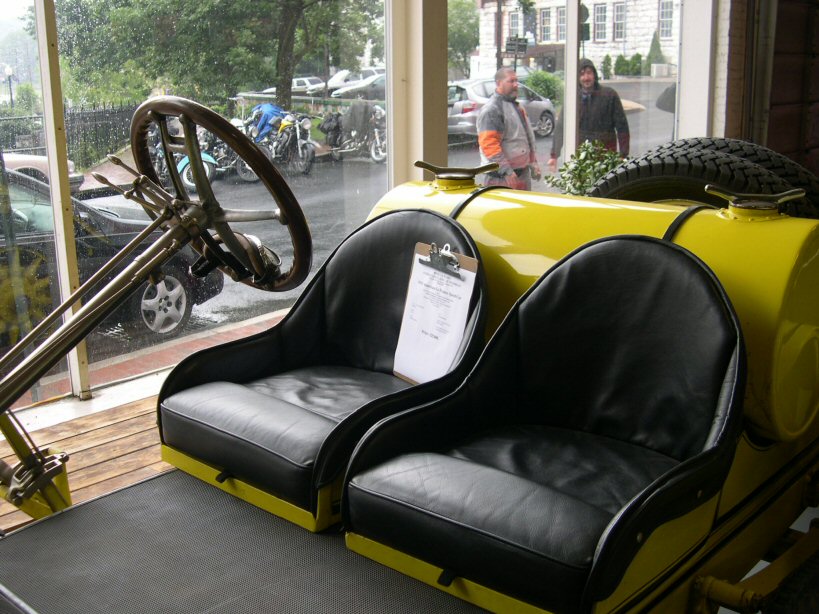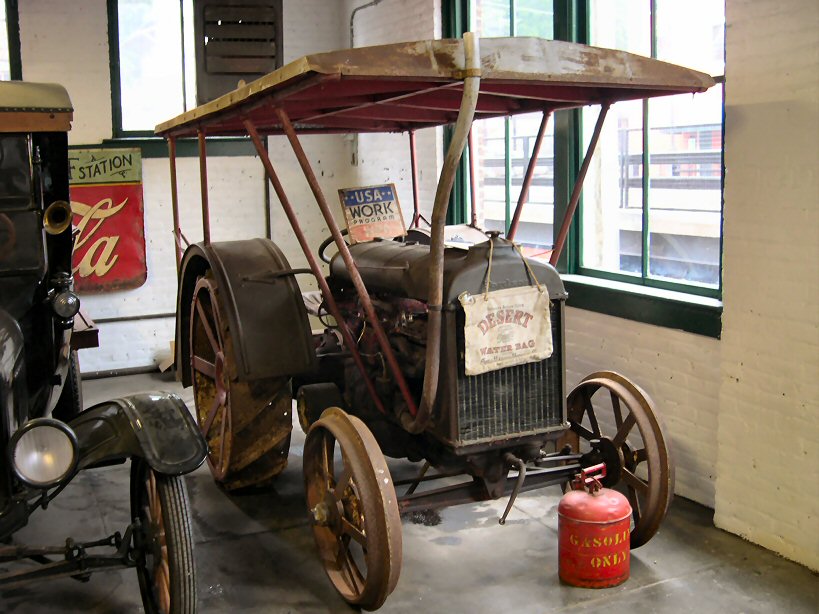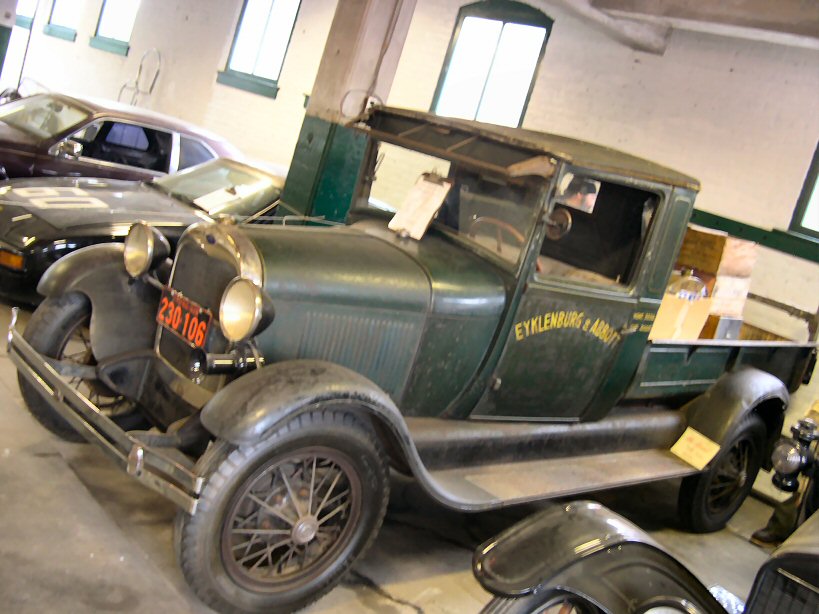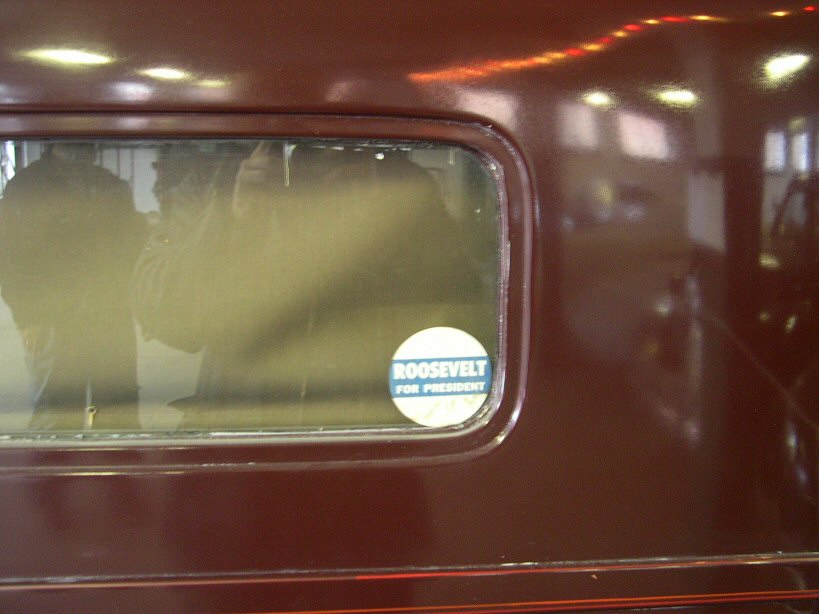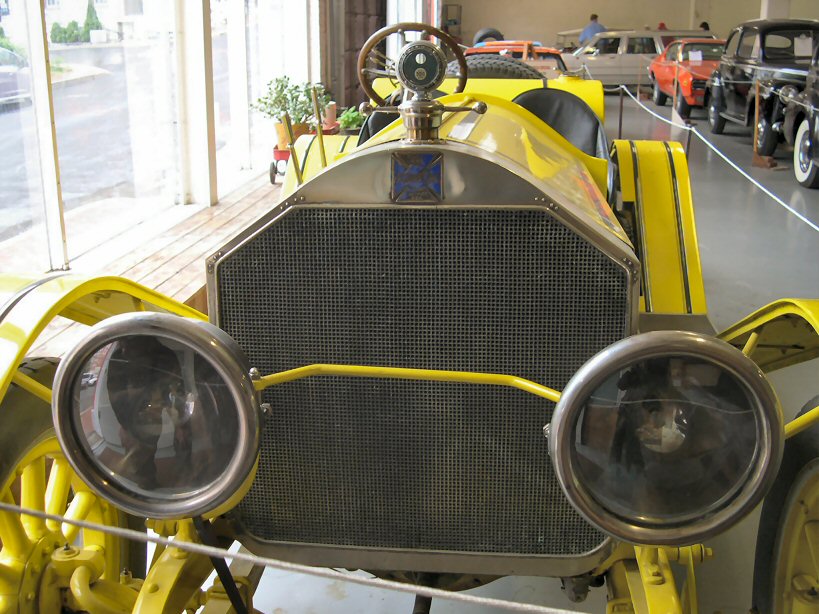 Paulie dressed for success in the driving rain.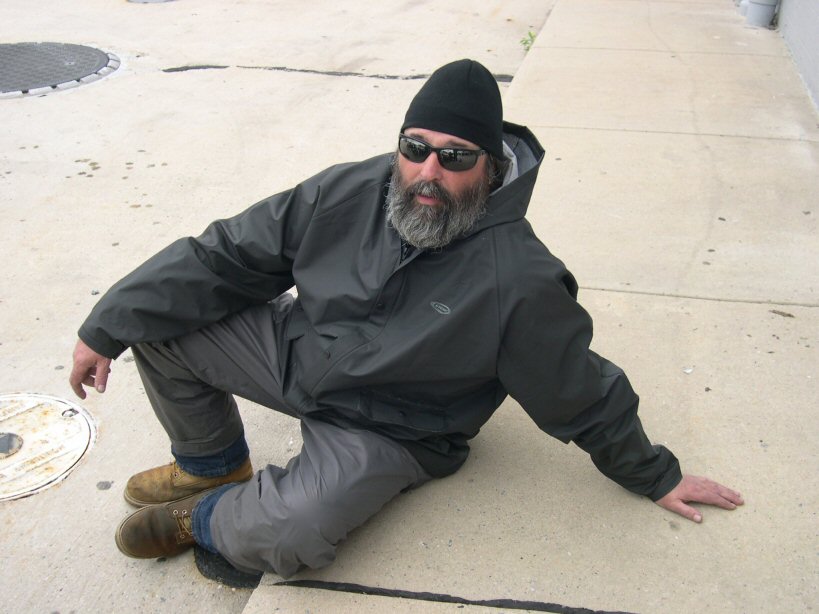 Me dressed for the rain too.
Dan's talisman.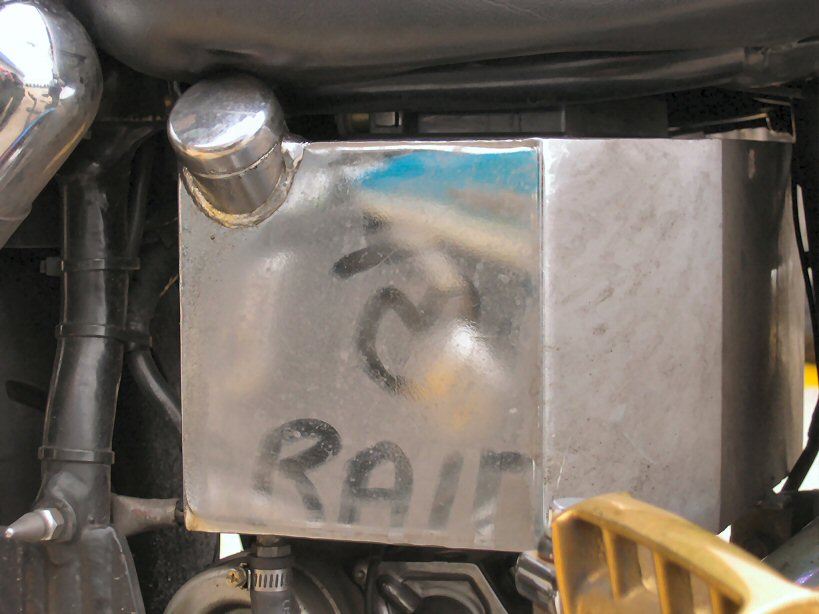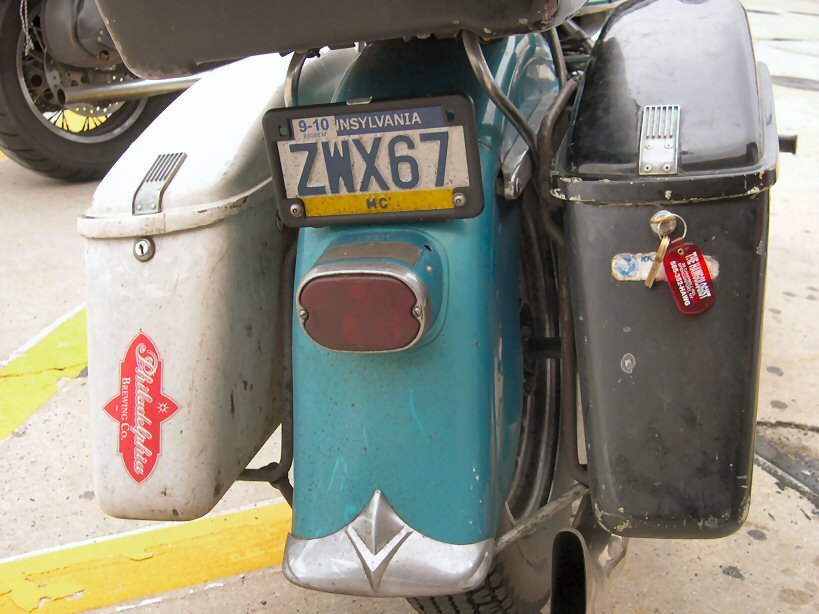 The man who got me started with all of this back when I was in college (The Hawgologist)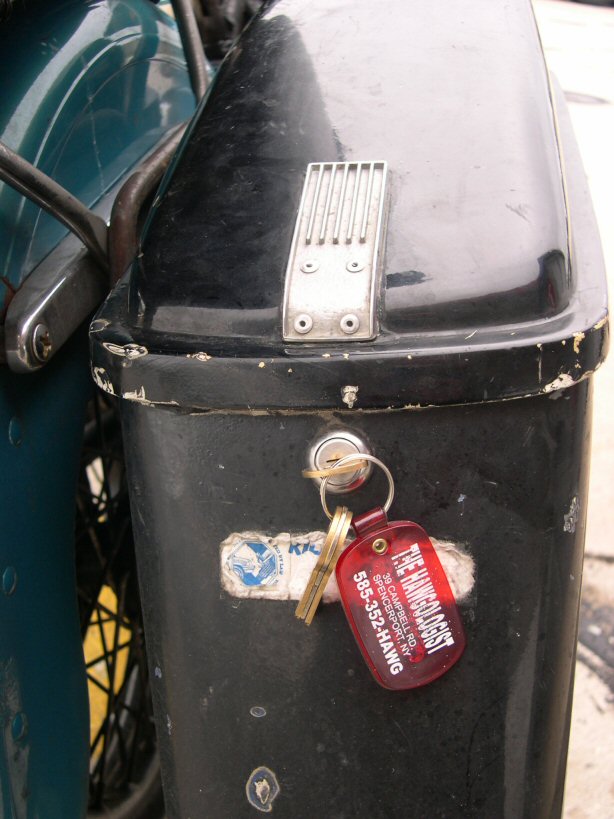 Dan smiling in the rain.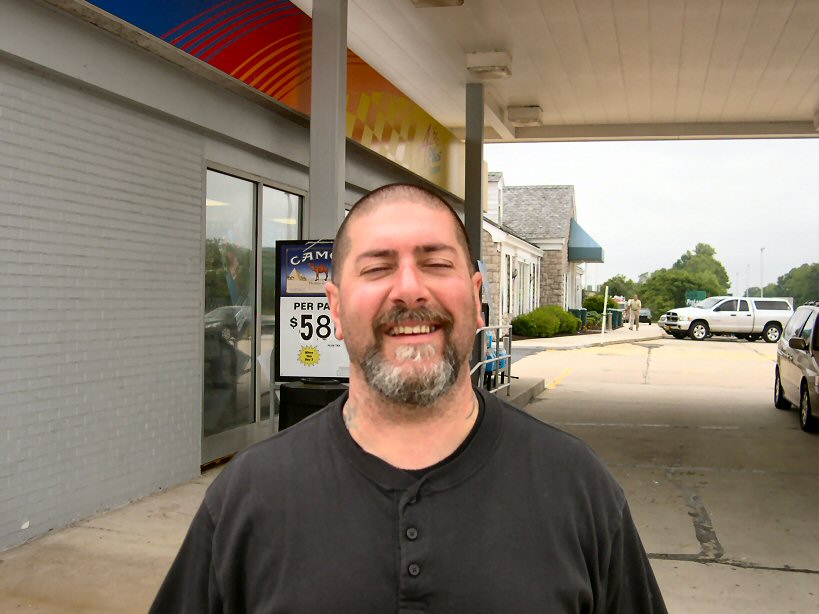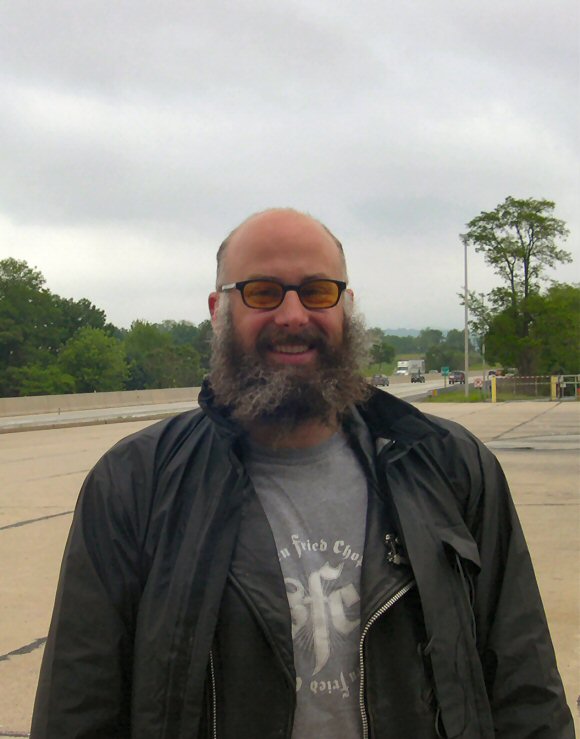 There's a story here. Tradition is everthing. I earned the angry pickle this time.